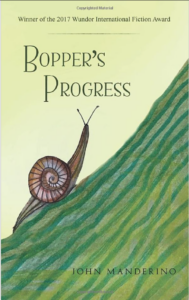 Category: Fiction
Format: Paperback 224 pp. 5.25 x 8.25 inches
ISBN-10: 1613734751
ISBN-13: 978-1613734759
Buy Now at Amazon.com.
About the Book
Bopper is a directionless young man who has found himself on a month-long retreat at a Zen Buddhist monastery in upper-state New York. The novel fluctuates between revealing the reasons Bopper ended up there (including his girlfriend falling for her Zen-centric tennis instructor) and the predicaments, mostly self-inflicted, that he navigates while he's there (including his lemon drop-sucking roommate/nemesis). The story is told over the course of Bopper's day at the monastery, from morning wake-up to the day's end, through complicated meals, surprising whacks at meditation, conflict-filled group chores, and tiny moments of grace.